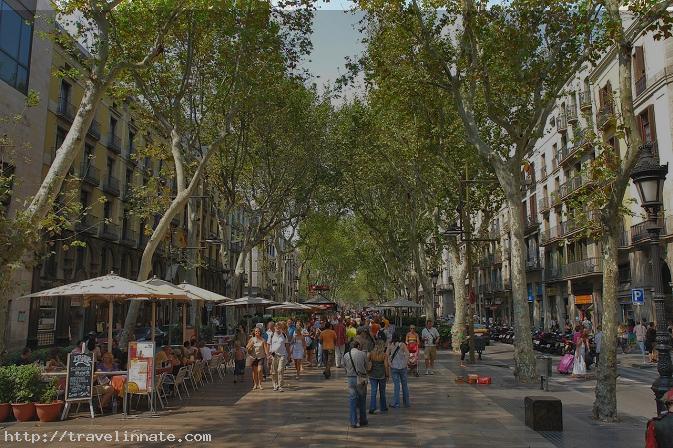 Top facts about The La Rambla
The busy, buzzing street of La Rambla is filled with locals and tourists alike. Kiosks, flower stalls and street artists, along with colorful shops and historical buildings, all are present in this iconic Spanish street.
The History of La Rambla
La Rambla, originally, was a small stream that flowed just outside the walls of the city. In the 16th century, several convents and a university were constructed along the river. The 19th century saw the city wall torn down so that buildings could be erected along the stream which had now dried up over the centuries.
Even after the demolition of the original buildings, they are remembered in the names given to different parts of La Rambla. In spite of being a continuous street, it actually consists of five distinct 'ramblas'. This is why the street is also known as Las Ramblas in Spanish or Les Rambles in Catalan.
Top facts about La Rambla
The La Rambla street is the most popular Boulevard in Spain, a place you should visit in spite of the fact that it is crowded with tourists all through the summer.
La Rambla has painters and human sculptures, the symbols of the city.
La Rambla is the shopping hub of Barcelona.
You'll get to see Spain's Champs Elysees, which is a magnificent avenue that is the perfect expression of Spanish atmosphere.
You'll be very close to Barri Gotic.
Top attractions of La Rambla

As for the attractions, you'll get to see human statue art, live performances, skilled artists who'll draw your portrait / caricature, and a number of established attractions:
La Rambla Wax Museum

The Museu de Cera in Barcelona is one place where you'll actually feel time stand still. It houses a hundred wax figures representing various figures throughout history – from showbiz stars to political personalities. You'll be stunned by how the museum manages to bring to life imaginary characters such as the Star War heroes!
Christopher Columbus Monument
The Barcelona Colom monument stands as a memorial to the renowned pioneer Christopher Columbus. It is present at the South most end of La Rambla and is a giant 60 meter high statue of Columbus proudly standing at the top and pointing in the direction of the sea. The monument gives an amazing view.
Shopping along Las Ramblas in Barcelona
Don't miss out on a shopping street at the Corte Ingles in Placa de Catalunya – it is one of the largest shopping chains in Europe. On the other hand, there's Pelayo Street where you can find every cheap Spanish and Catalan brand there is. You'll also enjoy window shopping at the Avingunda Diagonal and the Passeig de Gracia.
La Rambla restaurants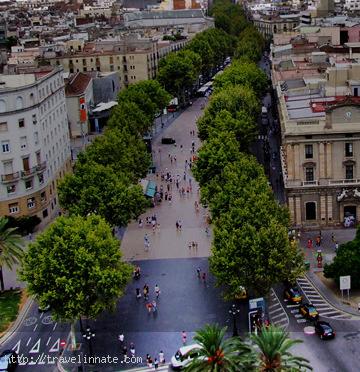 La Rambla street view from top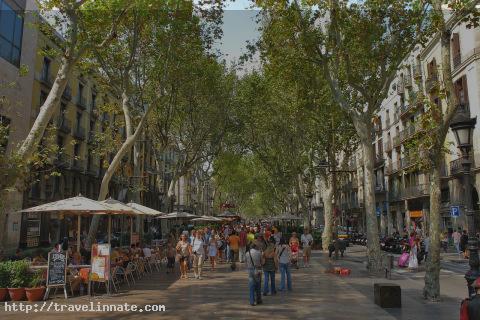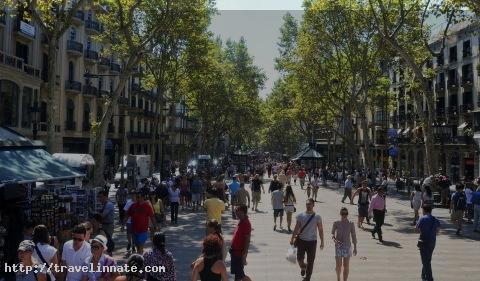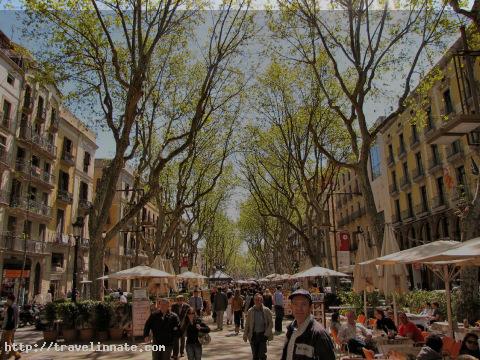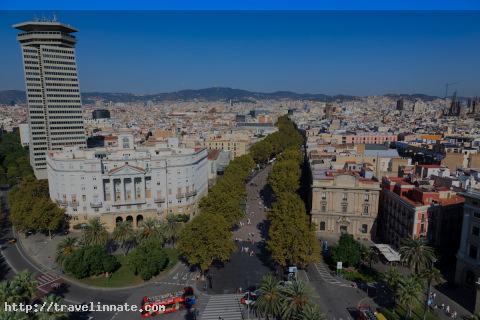 La Rambla trees view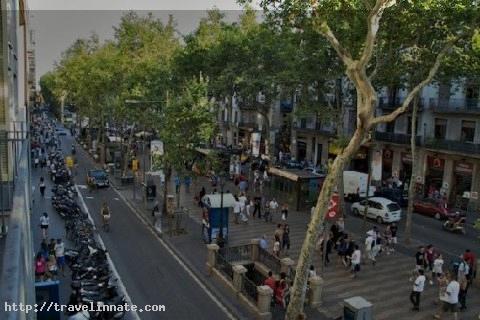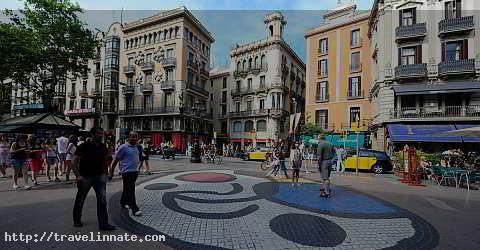 La Rambla street