Ten Artifacts That Make Visiting The British Museum An Absolute Must For History Buffs
British Museum by travelinnate.com.

Housing one of the largest and most diverse permanent collections among all museums of the world, it isn't hard to see why the British Museum is such a popular tourist attraction in London. From the Elgin Marbles, fabled in controversy, to the Rosetta Stone's legend, the ghoulish Egyptian mummies to the Lewis Chessman, the British Museum has so many highlights that you won't be able to see all of them in just one visit at the British Museum!
Ten artifacts that make visiting the British museum an absolute must for history buffs
1. Jaguar-shaped poporo
This golden jaguar-shaped poporo (i.e. a lime container), which has been featured in the temporary exhibit Beyond El Dorado: Power and Gold in Ancient Columbia, is a demonstration of the extraordinary technical prowess of ancient Colombian artisans as they crafted precious metals into beautiful artifacts through hammering and casting techniques.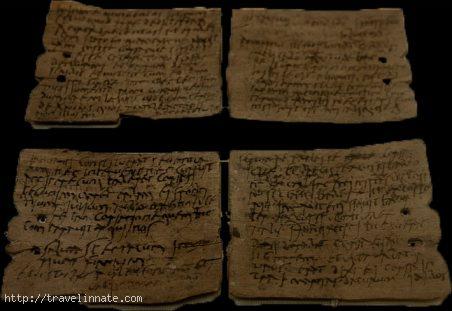 2. The Vindolanda tablets
These tablets were excavated from northern England in 1974, at the site of an old Roman military outpost. These unique fragments were preserved by waterlogging at rubbish deposits, and are the most ancient surviving handwritten relics in all of Great Britain.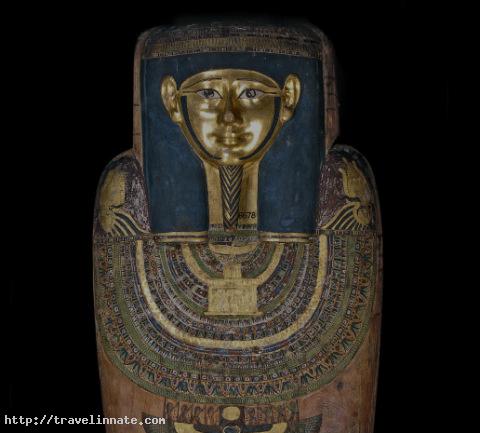 3. Mummy of Hornedjitef
This one of the many Egyptian mummies in the British Museum's permanent collection. Hornedjitef was a prominent priest in Amun's Temple at Karnak during Ptolemy III's reign (246 to 222 BC).
4. Black-figured amphora depicting Achilles and Penthesilea
This ancient amphora (i.e. wine jar) has been dated back to 540 to 530 BC, and is believed to have been crafted by the noted ancient Greek potter and vase-painter Exekias.
5. Sir Percival David Collection of Chinese ceramics
This exotic collection of Chinese ceramics, loaned on a long-term basis from the Percival David Foundation, has its very own gallery at the British Museum. Its priceless treasures include the David Vases and Ming Dynasty bowls, which are two of the most famous Chinese porcelain vessels in the world at the British Museum.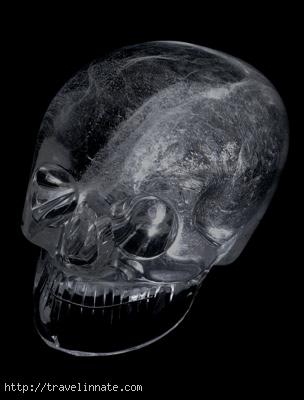 6. Rock crystal skull
Originally believed to be an object from ancient Mexican times, this rock crystal skull was bought by the museum from Tiffany and Co. British Museum has been examined several times ever since, and was eventually found by experts to be a fake that was made only recently.
7. The Becket Casket
After he was murdered in 1170 at the Canterbury Cathedral, Archbishop Thomas à Becket was declared a saint and his remains were spread between some 40 similar caskets all across Europe.
8. Apotropaic wand
This wand is from ancient Egypt (around 1750 BC), and was used to protect against threats and evil spirits during childbirth and early infancy. The artifact is made out of hippopotamus ivory, and is covered by multiple protective symbols believed to safeguard the health of the mother and the child.
9. Discus-thrower
This Roman statue is actually a copy of the original bronze one which was sculpted in the 5th century by Myron, the Athenian sculptor.
10. Bronze figure of a seated cat
This bronze feline artifact represents the goddess Bastet and is an illustration of the high regard given to the domestic cat in ancient Egypt.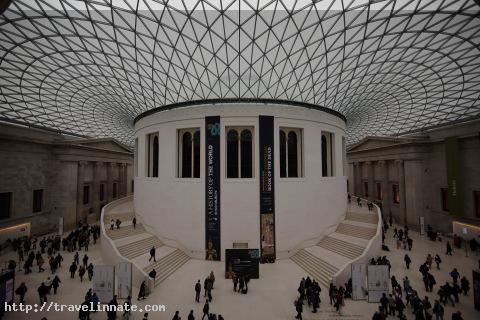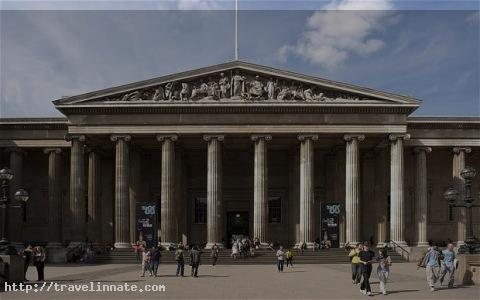 British Museum front view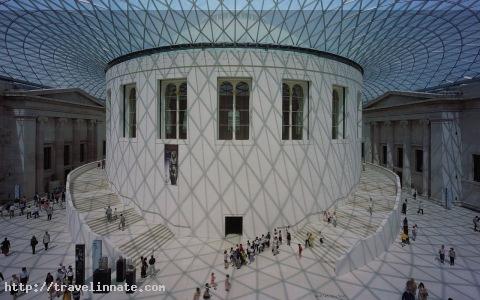 British Museum lobby
British Museum pictures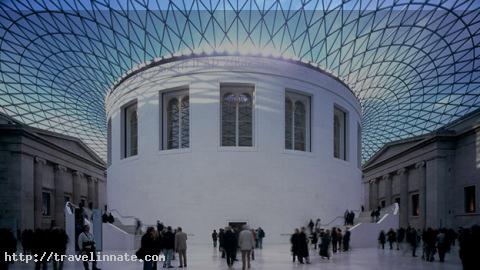 British Museum inside

British Museum visitors

British Museum at night